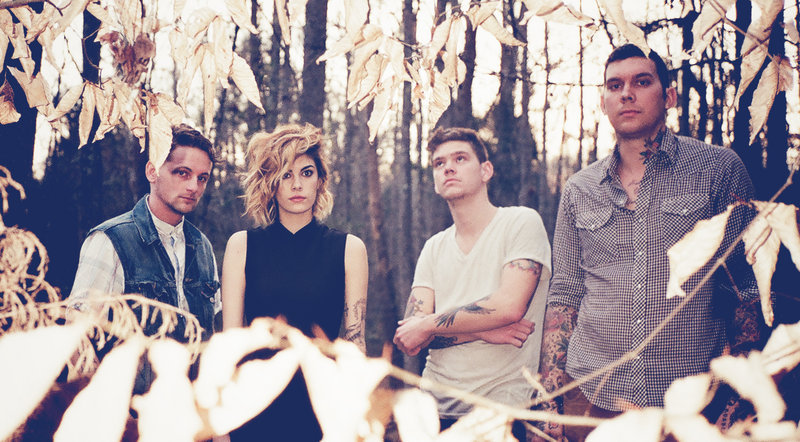 With the announcement of an upcoming release of their new full length album,
Montibello Memories
, Columbia Records'
Matrimony
will return to their home state of North Carolina to play at
Lincoln Theatre
this Wednesday. Led by the talented couple, Jimmy Brown and Ashlee Hardee Brown, Matrimony brings a sound that is certain to appeal to North Carolina natives and folk-rock fanatics alike. Joined by Jordan and CJ Harde, Matrimony combines the couple's dynamic vocals with the musical talents of Ashlee's brothers on the drums, mandolin and banjo.
After the success of their first EP in 2010,
The Storm and The Eye
, this Charlotte based band set out playing together and quickly gaining notoriety. With popular songs from their first album like,
Last Love
, the melody created by Jimmy and Ashlee, is an example of how their chemistry both in their music and in their relationship could lead to great success for the band. Soon after, Matrimony would go back into the studio to record,
Montibello Drive
. This song capitalized on the unique blend of folk and Irish inspired beats as displayed in
The Storm and The Eye
, but also highlighting the bands own maturation as artists in deeply felt songs like,
Giants
and
Obey Your Guns
. With the assistance of Jay Joyce, who is responsible for working on albums with artists such as Cage the Elephant and Eric Church, Matrimony was able see their popularity expand over the past year. After playing at music festivals like Bonnaroo and Bela Chere, Matrimony is looking to capitalize on their success from relentlessly touring throughout 2013 with the release of their new album. Recently, Matrimony was featured on CMT Edge for their music video "Golden City."
Joining Matrimony will be Raleigh's own New Reveille. Drawing upon the talents of other Raleigh based acts in Saints Apollo and Jack the Radio, New Reveille is an alternative country/Americana band that features an all female front and the unique sounds of the steal guitar and cello. After forming in 2013, New Reveille has enjoyed instant success after producing a music video for their song,
Babylon
, and selling out their first live premier at
Deep South
on January 31. New Reveille will also be performing at
Brewgaloo 2014
on April 26 in downtown Raleigh.
The doors are set to open at 7PM with the show starting at 8PM. Tickets are on sale for $8 at
www.lincolntheatre.com
or $10 on the day of the show.